---
Summer Info
Contact 618.667.2173 or ECC@SaintPaulsTroy.org
---
Join us for a safe, fun, Christian-based summer daycare session! Fun filled activities all summer long: Field trips, theme days, water fun, & crafts.
Access to Saint Paul's Summer Camps (additional cost may be required based on camp program selected).
Location: St. Paul's Daycare | 112 N. Border St., Troy IL
Hours: 6:30am – 6:00pm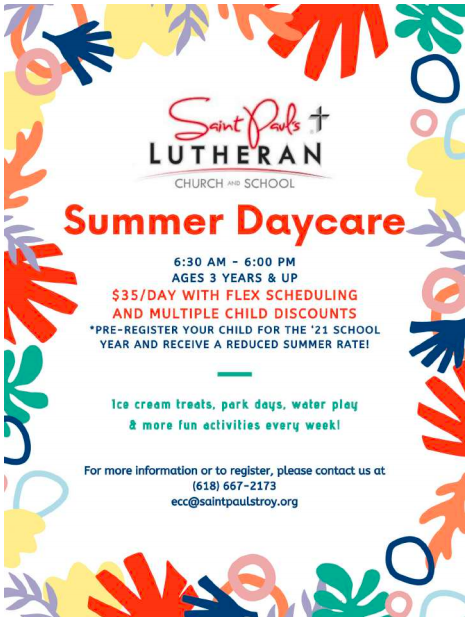 Rates
Child 1

Child 2

10%

Child 3

15%

Child 4

50%

Summer:
$35.00
$31.50
$29.75
$17.50
Drop In*
$40.00
$36.00
$34.00
$20.00
*Drop in: attending less than 5 days in a month
Registration fee for students, non-refundable: $35.00
A light breakfast and snacks are included. Child must be 3, toilet trained and immunized. Need to bring a sack lunch every day.